Definition of eco-friendly printing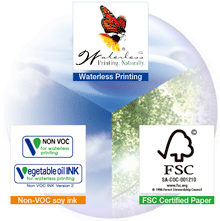 Eco-friendly printing contributes to the conservation of the environment through printing at the same time as it strengthens our customers' environmental competitiveness.
This means applying the most advanced environmental technologies to the three major elements of printing—namely to all printing technologies, ink and paper—to reduce the load on the environment. Combining the printing technology "waterless printing", with the ink "Non-VOC Soy Ink", and the paper "FSC Paper", provides the leading environmental conservation measures, through printed materials.
Definition of waterless printing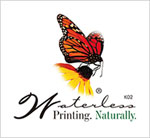 Conventional widely-used offset printing uses water (commonly referred to as "dampening water", it contains hazardous substances such as H-liquid, or IPA (isopropyl alcohol) as part of its printing process to form areas where ink does not adhere by taking advantage of the fact that water repels oil.
Compared to that, Waterless printing permits printing without using any water, by taking advantage of the ink-repelling property of the plate material to form areas where ink does not adhere. The plate development process is a water development method which does not produce recovered waste fluid and does permit the sharp reduction of the quantities of developing fluid used and quantity of waste fluid produced.
Kyueisha Corporation is the first Japanese company to obtain Butterfly Logo Certification in recognition of its role as a printing company which performs waterless printing to make a superb contribution to environmental conservation. Our President has been appointed to the post of Chairman of the J-WPA, Japan's waterless printing management Association.
Definition of Non-VOC vegetable ink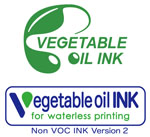 Inks used in printing contain petroleum solvents, but some of the petroleum solvent of soy oil is replaced with vegetable oil which is like soy bean oil, palm oil, linseed oil and etc. The oil constituent of ordinary soy ink ranges from 40% to 60%. Ink which all of its petroleum solvent is replaced with vegetable oil is called Non-VOC Ink. VOC used here refers to mineral oil ink which includes volatile organic compounds, and in other words, Non-VOC Ink is made without their addition during the manufacturing process.
Because it is plant-derived oil, only small quantities of organic compounds are volatilized into the atmosphere, it is easily decomposed after disposal, and it is appropriate for decolorization performed to recycle paper. And soy beans are a man-made product so that, unlike limited petroleum resources, a stable supply can be provided.
In 2002, Kyueisha Corporation developed and introduced Non-VOC Soy Ink especially made for Waterless printing in cooperation with an ink manufacturer.
More recently, the J-WPA has led the development of Non-VOC inks which can be washed from printing machinery with Non-VOC cleansing agents. These have now been introduced by Kyueisha and other companies. The goal of this effort is for our Chiba Factory, where every printing machine performs waterless printing, to be Japan's first Non-VOC printing plant producing absolutely no VOC.
Definition of FSC paper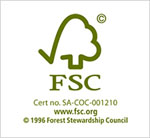 Paper itself, is made of wood which absorbs CO2, and if taken from appropriately managed sustainable forests, its consumption cuts CO2. An FSC Certified company is one which has been evaluated and certified as a company which satisfies forest management standards by an independent third party company (FSC-accredited certification body) formally accredited by the FSC (Forest Stewardship Council).
This certification can be awarded not only to forests or to lumber companies managing forests, but also to processing and distributing processes: processing and distributing to manufacture furniture, paper, etc. made of lumber and pulp which are raw materials produced by forestry companies, and secondary process such as printing, and so on. Certification given to printing companies, paper manufacturers, etc. is performed under a procedure called the Chain of Custody System.
Kyueisha Corporation is the third Japanese printing company to obtain CO2 Certification, and is well known as a leading domestic user of FSC certified paper.
Environmental management system
We believe that no matter how superior our environmental technology, we must actively apply it to environmental conservation activities. Kyueisha has obtained a variety of environmental certifications, and based on its management system, we contribute to the creation of sustainable society by restricting pollution, preventing global warming, and conserving resources and energy.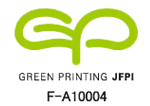 Green Printing Certification
This is a certification system, under which Japan's largest printing industry organization, the Japan Federation of Printing Industries (JFPI), gives awards certifying that the recipient company practices a wide range of environmental conservation activities. Kyueisha Corporation's Chiba Factory was selected for the first certification in September 2006.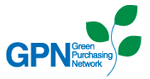 Green Purchasing Network
This network strives to prevent the purchasing and use of not only printing materials, but any goods which may have a negative impact on the environment. Kyueisha Corporation joined this network in July 2002 and now works to design, manufacture, and develop products which are kind to the environment.
Copyright © 2009 KYUEISHA Corporation. All rights reserved.